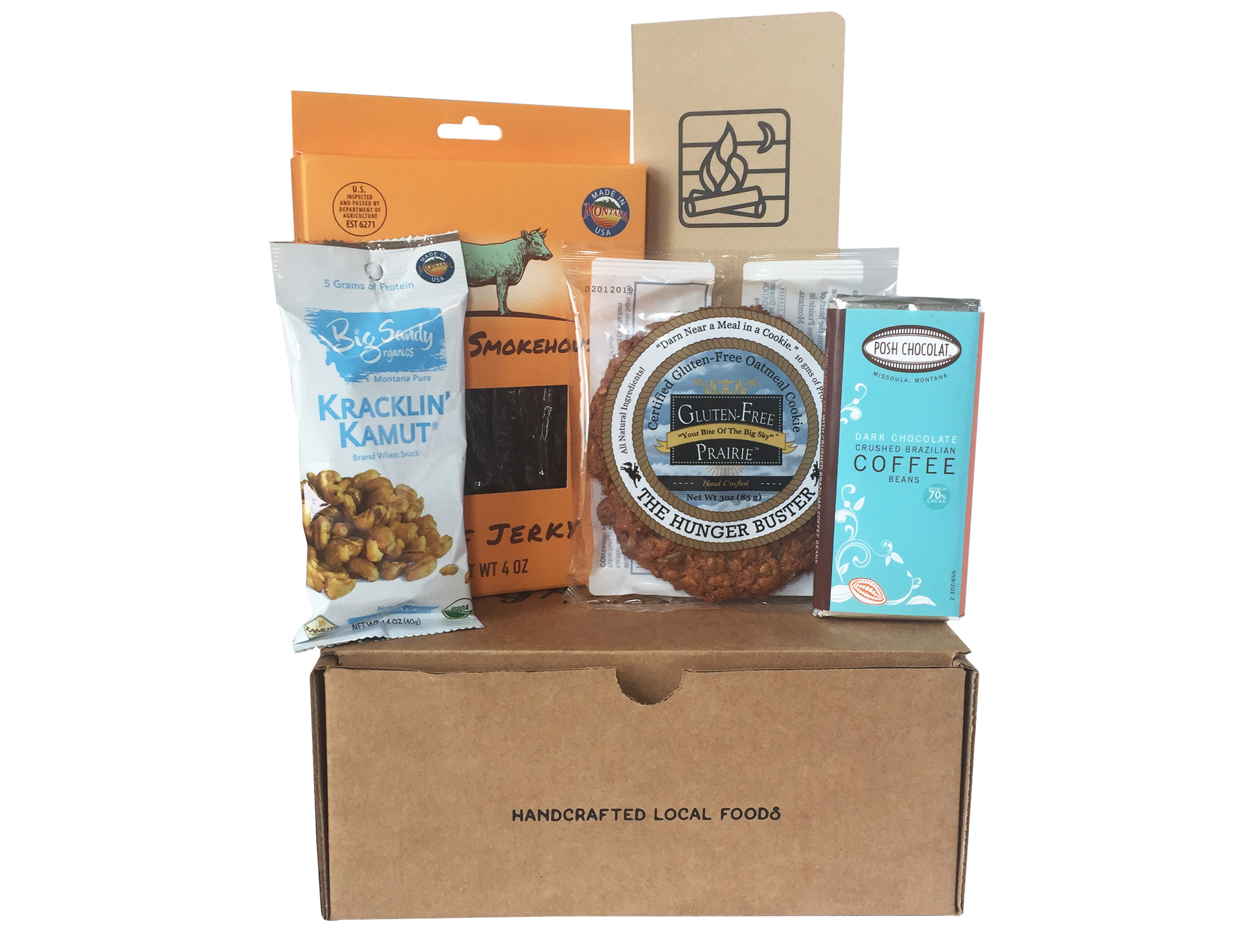 Day Hike
*We are currently substituting KornUtopia Caramel Corn for Kracklin' Kamut in the Day Hike Gift Box.
All the essentials for your next day hike! The goodies in this box will keep you going as you summit your favorite mountain. Keep notes in our favorite trail notebook along the way!
Madison Smokehouse Beef Jerky / Ennis
The special brine and seasoning blend for the Madison Smokehouse original recipe is designed to bring out the best possible flavor of the meat. This is one for the straight carnivores. It's not frilly, but it's delicious.
Posh Chocolate Crushed Brazilian Coffee Bean Bar / Missoula
If you are a true "Coffee Lover" then you love coffee prepared in any way, shape or form. What can be better than chocolate and coffee together? Posh Chocolat came up with this sinfully origin bar combining crushed Brazilian coffee beans with 74% single origin Ecuadorian dark chocolate.
Hunger Buster Cookie / Manhattan
Darn near a meal in a cookie. Chocolate chips. Raisins. GF oats. Peanut butter. The hunger buster buster cookie is all natural!
Kracklin' Kamut / Big Sandy
Kracklin' Kamut® is ancient Kamut® grain, organically grown in Montana and carefully roasted in small batches at our plant in Big Sandy, MT.
5518 Designs Trail Journal / Butte
The perfect notebook to keep track of your favorite hikes! We include a variety of great mountain designs in the Day Hike pack.