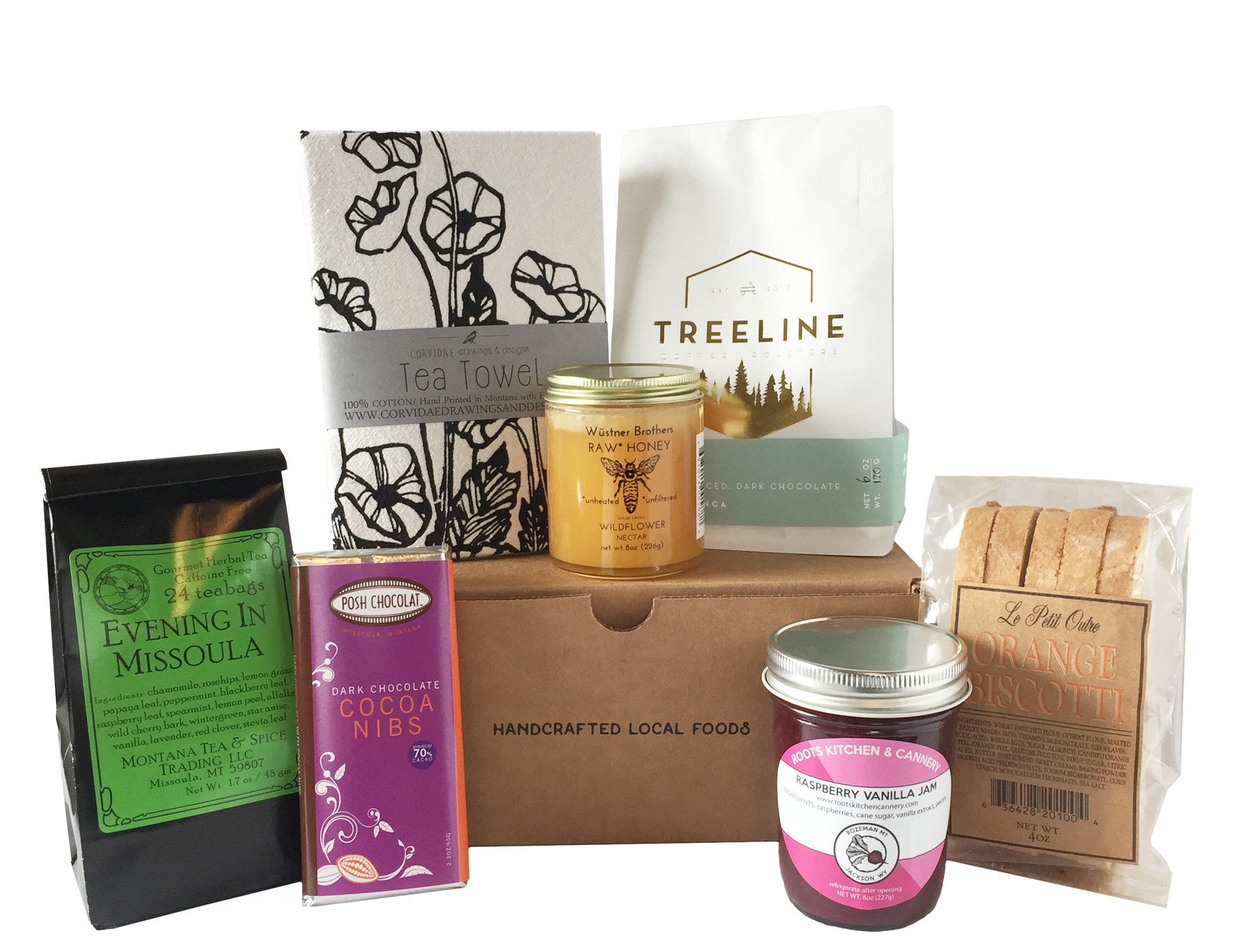 Mountain Mama
Treeline Coffee Roasters Whole Bean Coffee / Bozeman
Treenline Coffee Roasters is a small batch, artisan coffee roaster in pursuit of an unforgettable cup of coffee. We love the comforting notes of raisin and chocolate in our featured blend, Peru - Rutas del Inca.
Le Petit Outre Orange Biscotti / Missoula
Since 1998, Le Petit Outre has been providing the city of Missoula with fresh baked breads and pastries. These subtly sweet orange biscotti make a delicious morning (or let's be honest, any time of day) treat.
Roots Kitchen & Cannery Raspberry Vanilla Jam / Bozeman
Roots Kitchen and Cannery processes and preserves an abundance of locally grown summer produce for year long enjoyment. Apply this tart raspberry vanilla jam generously on the orange biscotti for an irresistible pair.
Evening in Missoula Tea / Missoula
This world famous tea from Montana Tea & Spice Company is one of our most frequently requested gift items. Perfect before bed or as a mid-afternoon tea latte.
Posh Chocolate Dark Chocolate with Cocoa Nibs / Missoula
This bar is perfect for the purist. Simply 74% single origin Ecuadorian Chocolate with Cocoa Nibs.
Corvidae Drawings & Designs Poppy Tea Towel / Kalispell
Perfect for hanging over your oven handle, folded at the dinner table, or draped over a warm loaf of bread. Each towel is printed by hand and may have slight variations which add to the charm and beauty.
Wüstner Brothers Honey / Missoula
Wüstner Brothers honey is produced by a 2nd generation beekeeping family using time-honored traditional practices. This raw and unfiltered honey is made with local wildflower nectar and is perfect on toast or in a hot toddy.